About PaperDemon.com
Jump to navigation
Jump to search
PaperDemon.com is an art and writing community focused on self improvement and freedom of expression. We learn, share, and motivate one another to become more awesome.
Our adult section, The Red Curtain, provides a sanctuary for artists to be creative without boundaries or judgement.
Our values
Read our values manifesto to learn more about our beliefs, what we are, and where we're headed.
Link to PaperDemon.com
Feel free to use one of these nifty banners.
Logos

You can download logos in various sizes from our brand kit here.
Please link the following banners to https://www.paperdemon.com



PaperDemon icons
Please link the following icons to either your PaperDemon profile or to https://www.paperdemon.com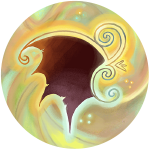 Contributed by our community

[1] Social badge created by ParadoxSketchbook
Please link the following banners to https://www.paperdemon.com/app/rc/home


About the Founder
Greetings! My name is Susie Sahim, aka BogusRed. I started building PaperDemon.com around September of 2002 to create a place for friends to share their art and poetry. The site has always been a work in progress as I am always finding ways to improve it and add new features.
I have a Bachelors of Fine Arts in Animation & Illustration and worked for 12 years for Google doing illustration, web design, and web development.
Please also give thanks to the wonderful staff members of PaperDemon.com who help out with the site.
How do you make money?
PaperDemon makes money via these avenues:
Beginning in 2020, other Art Role Playing Game communities came to PD to host their Art RPGs on PaperDemon. Some of these larger communities like Dracostryx and Dragons of Aquella pay PaperDemon a monthly fee to host their groups on the PaperDemon platform to get access to special moderation tools to help them moderate and run their game.
Some of our members pay a small fee to upgrade to a Premium Account to get extra account features.
Beginning in 2019, we began accepting support through Patreon.
Eventually, we will be making money from sale of virtual items in our Art Role Playing Game but that likely wont happen until 2021.

At the time of this writing in Sept 2020, we are roughly breaking even in covering hosting and operational expenses. All money made is reinvested back into creating content and development of PaperDemon. Prior to summer of 2020, PaperDemon had never generated enough income to cover the expenses to run it and the majority of the costs were covered through the out-of-pocket expenses of the founder, Susie.
In the past, PaperDemon had been supported by minimal advertisements and premium membership purchases. We tried an advertisement based business model and it didn't work too well for us. In order for this to work, we'd have to spend a lot of time chasing down people to buy ads and/or plaster annoying ads everywhere. We have no intention of ever going back to an ad based business model.
In 2017, it was formalized into PaperDemon, LLC as Susie Sahim began to pursue PaperDemon more seriously as a business.
History
The PaperDemon website originally launched on the domain bogusred.net in September 2002. It later moved to PaperDemon.com in 2005.