Submitting to the Queue
Jump to navigation
Jump to search
To Submit ARPG Art and Writing for Rewards...
Go to PaperDemon.com and log into your account.
Click Submit in the top navigation
For artwork:

Click New Art under Artwork and fill out the form.
Make sure to tag the artwork with your character's ID and the pdarpg tag. See Tagging your character for more information.

For writing:

Click New Story under Writing and fill out the form.
Continue to the next page to add your chapter.
How to add it to the queue
Now that your submission is on the site, you can add it to an Art RPG queue.
STEP 1: View your submission.
You can find your submission by clicking on Submit at the top and then Art > Manage/edit art OR Writing > Manage. Click on your submission from the list.

STEP 2: Click the Add to ARPG Queue button on your submission page.

STEP 3: Select the Art RPG the submission is for. For example, PaperDemon ARPG.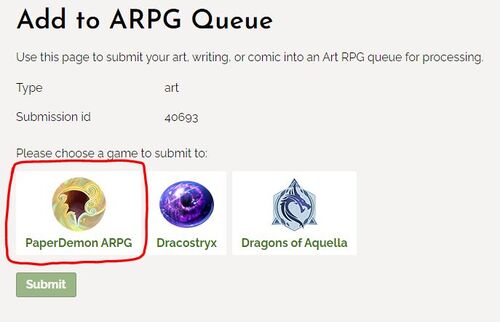 The beginning of this tutorial shows how to submit to the queue.
Which Queue To Submit To
STEP 4: Choose a queue. Certain events use specific queues to get certain information from you. E.g. if you're completing a Portal for the PaperDemon Art RPG, you'll choose the Portals queue. The event blog post should include instructions on which queue to select.

STEP 5: Select the characters related to this request. If you've tagged the artwork, it will auto select these characters for you. If you don't see the characters you want to collect points for, just use the search box to search for the character. In the Points field, enter the amount of points you expect as a reward for this submission for each character. In the PaperDemon Art RPG, this is listed as AP on the blog post.
NOTE: once you submit your request, any characters you've added will automatically be tagged in the submission so they can be displayed on the submission. The official game tag will also auto-tag.
STEP 6: Fill out the form provided in the Comments & Request Details box. (See first screenshot below)
STEP 7: Click Submit!
One of our staff members will get back to you about your submissions and rewards via DMs! If you're still not quite sure how to submit or you think there was an error with your submission, please drop into our Discord server or email [email protected]